According to a recent trends report from Wellable Labs, 90% of employers say they are investing more in mental health programs in 2022.1 Although the value is recognized, there is not a clear understanding of what is needed and how an organization can get better mental health and wellbeing results. According to the same trends report, only a mere 1% of surveyed brokers believed that their clients had a strong understand of chronic workplace stress and had a clear strategy for managing it. There is a knowledge gap between knowing it is important and knowing how to roll out an effective program.
As employers invest more heavily in mental healthcare, they can make better decisions if they know how to adopt a strategy that is valuable, effective, and customized to their needs. Two key questions leadership can target: What is impacting the mental health of our workforce? What type of framework and best practices will create a mentally healthier workplace?
Independent organizations have been gathering 15 years' worth of research from the fields of organizational psychology and mental health in the workplace to provide organizations ways to answer these two questions and adopt an evidence-backed and validated framework for creating healthier workplaces. With evidence-based decision making, leaders can rely on the experience of mental health professionals and invest wisely in mental health initiatives.
A Snapshot of Independent Mental Health Resources
ISO 45003:2021 Psychological health and safety at work is a global international standard that offers clear and practical guidance for managing psychosocial risk in the workplace within occupational health and safety management systems. The standards are intended to help organizations prevent work-related injury and poor health as well as promote wellbeing in the workplace.2
Canadian Standards Association and the Bureau de normalisation du Quebec have created a very thorough, systematic approach for developing and sustaining psychologically healthy and safe workplaces. Within their codes and standard, they discuss how to identify and eliminate hazards that pose psychological harm, how to assess and control risks that cannot be fully eliminated, how to implement structures and best practices that support psychological health in the workplace, and how to foster a culture that promotes psychological health.3
Mental Health at Work is a curated collection of resources created by a Mental health charity, Mind. Mind's mission is to improve services and raise awareness for mental health and empower anyone experience a mental health problem to find the advice and support they need. Mental Health at Work offers multiple toolkits on specific topics within mental health at work and general guidance on how organizations can better support the mental health and wellbeing of their employees.4
How We Can Help
Our product team is led by Dr. Jay Spence, who holds a Master of Clinical Psychology and a doctorate in Psychology. He has been working on peer-reviewed studies and clinical evaluation of mental health solutions for the past twelve years. Our product team is dedicated to getting research and tools into the hands of leaders, so they can create a mentally healthy workplace.
In our recently published playbook, we provide evidence-backed steps that organizations can take to better support their employees and create a mentally healthy workplace. These are actionable recommendations that are the most likely to lead to an organization's desired outcomes. In the playbook, we also include solutions for common mental health challenges that organizations and employees face.
Download Rising Up to Meet the Challenge: A Post-Pandemic Playbook for Addressing Employees' Mental Health Needs for more information on making evidence-based decisions to improve employees' mental health.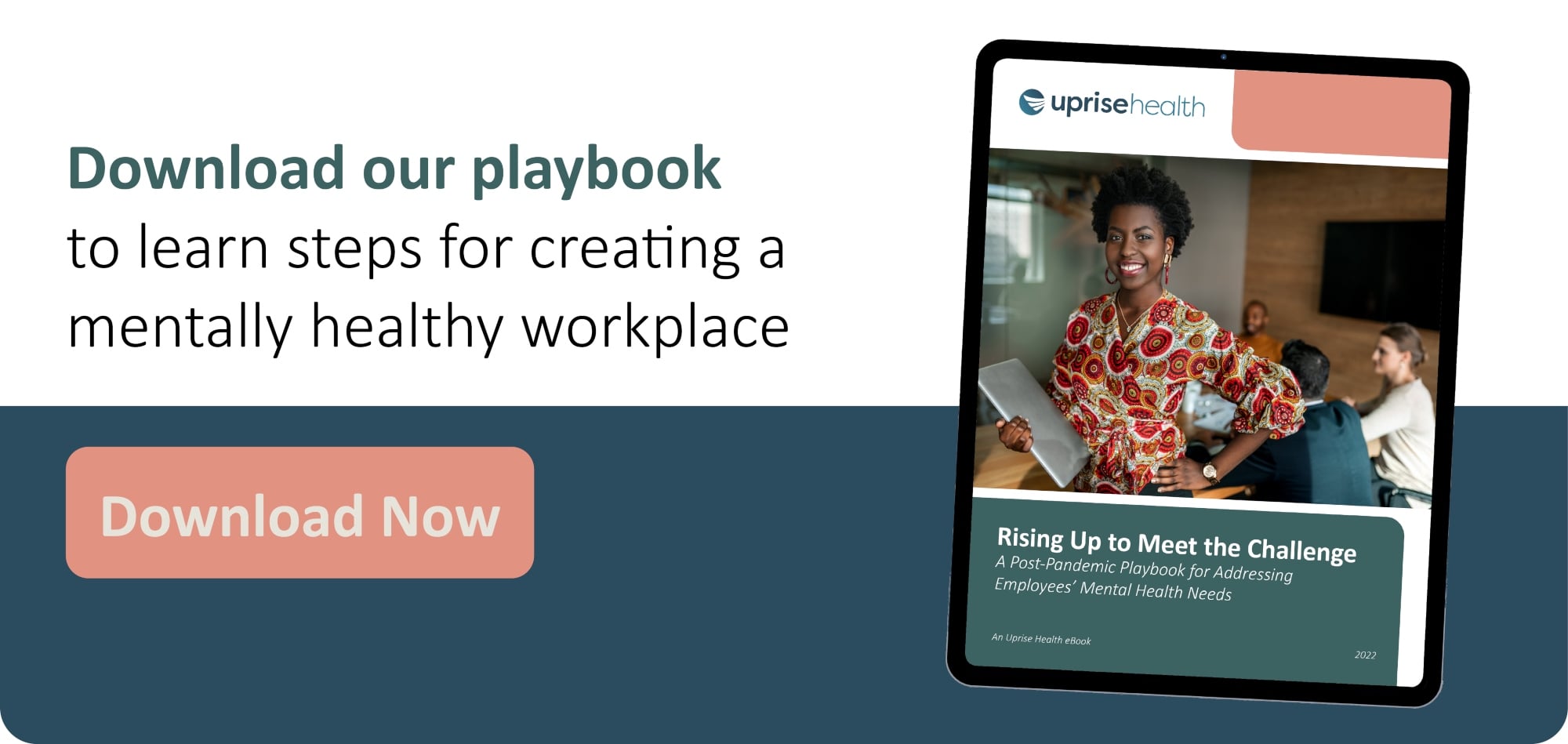 Resources