We recently surveyed a group of 47 HR and WHS managers and asked about their views on mental health and EAP strategy. Those surveyed were from mostly white-collar companies with sizes ranging from 20 to as large as 35,000 employees. Learn more about some of our findings!
COMMUNICATION NEEDS TO BE DRIVEN BY LEADERSHIP
Most participants believed that senior leaders should be communicating with employees about mental health. Senior leadership is seen as a role model within the organization and so should have a holistic understanding of their own self-care and wellbeing. When leaders can share this value with employees, they set an important precedent for wellbeing as a priority of the organization. It is also useful in reducing stigma and opening up a conversation about techniques for wellbeing between employees, teams and managers.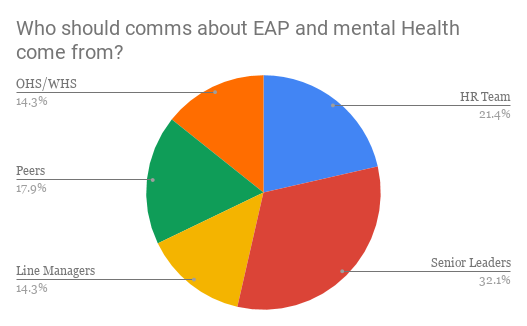 However, in some situations it is more difficult to gain leadership buy-in without a business case and financial proof. In order to secure leadership support and communication in these situations, there are a range of resources to generate momentum.
IN PERSON COMMUNICATION IS CRUCIAL WHEN IT COMES TO MENTAL HEALTH
When communicating to employees about mental health, HR and WHS managers believe the most effective mediums are in a team meeting (20%), face-to-face individually (17%), at a mental health event (17%) or via the intranet (17%). This is a great indication of the ideal for most workplaces, where mental health is spoken about more regularly face-to-face to reduce the stigma of reaching out for support.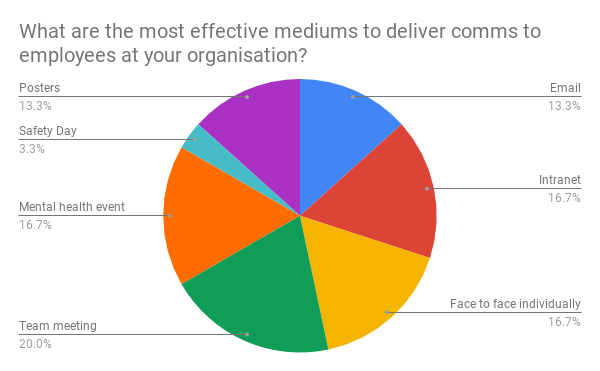 However, many managers and employees still perceive a large amount of stigma around mental health. This means these conversations feel awkward or are avoided all together. Some ideas to improve the frequency of these conversations include:
36% OF HR MANAGERS BELIEVE DIGITAL PROGRAMS ARE THE BEST WAY TO BOOST EAP UTILISATION
There is a lot of focus on improving utilization in the EAP space. This is often due to risk-management, where employees are burning out without ever seeking support from face-to-face counselling offered by an EAP. However, this model of waiting for an employee to reach out is outdated. Workplaces that want to be pro-active in supporting the wellbeing of their employees should reach out early to give them tools to improve their experience.
To improve access for employees, early intervention employee assistance programs reach out on behalf of your workplace. For example, Uprise Health conducts regular online wellbeing checks to assess the stress levels in your organization, and offers digital training modules to combat life and workplace stressors. This is the most flexible and accessible kind of support, for employees who may have otherwise suffered in silence.