Mental health has become an increasingly hot topic in the last few years. Cultural and racial strife, the COVID pandemic, and a shaky economy have worn on Americans and individuals across the globe. The World Health Organization have found a 25% increase in the prevalence of anxiety and depression since 2020.1
Mental Health Action Day began on May 20, 2021, with a collaborative effort from more than 1500 nonprofits, brands, government agencies, and world leaders from 32 countries who intended to shift from awareness to action. Discussing mental health is a great start, but we can do more to break the stigma of mental illness.
What defines action?
Activism in action is defined in as many ways as the acting individuals. Generally, we think of action as direct and sustained actions that change others' perceptions of an issue. Mental health awareness, for instance, started as bringing visibility to the spectrum of mental health concerns; mental health action urges us to speak up for loved ones who may be struggling, advocate for improved access to mental health care, and work on crushing the stigma that's often associated with mental health.
The action occurs in three main categories: personal, government, and organizational action.
Personal Action
Personal action starts with you and can also include close family and friends. This can consist of taking care of yourself by remembering prescribed medications if you've been diagnosed with a mental health disorder, participating in counseling through employee assistance programs (EAP) offered with your workplace benefits, and asking for help when you're struggling. Similarly, the action includes reaching out to family and friends and providing support to those who show signs of anxiety and depression. Sharing your story of similar struggles can help your family and loved ones feel more comfortable getting help.
Government
The mantra for Mental Health Action Day is "mental health is health." Emotional health is enmeshed with physical health but is often treated as separate entities. What's more concerning is the lack of availability of mental health services for vast swaths of the population — mental health care is expensive, and mental health insurance benefits are woefully inadequate at best and non-existent at worst.2 Many practitioners don't take Medicare, which cuts off many marginalized communities.
We must advocate for accessible and well-funded mental health services, added support to keep people in a mental health crisis out of the justice system and into care, and put a stop to policies that advocate interventions that could further hurt people in a mental health crisis, including solitary confinement and restraints.3 The National Alliance for Mental Illness (NAMI) works directly with members of Congress, encouraging their support of mental health legislation. NAMI has a list of actions you can take to directly advocate, including:
Write to Congress
Share your story
Sign a petition to ask Congress to invest in research for mental health conditions
Share your crisis care story
Visit the NAMI site for ideas and easy access to your local and state legislators.
Employer
One of the best ways to act for employees is adding mental health benefits to employee benefits packages. Employers should emphasize mental health benefits as highly as medical and dental offerings. With the development of digital tools, providing support for employees is easier than ever. For example, Uprise Health offers a blend of in-person and digital tools through the digital Employee Assistance Program (EAP), coaching and counseling online and in-person, and care navigation to ensure employees receive the care they need.
Senior leaders and executives in companies should also lead by example. It's not enough to provide EAP tools or simple exercises to make employees happy — they should also prioritize their employees' health and take mental health concerns seriously. Encourage work-life integration, support neurodiverse employees with the tools they need to succeed, and provide mental health assistance when they are struggling.
Mental Health Action in Action
At Uprise Health, we understand the value of mental health action. We created an action guide for employees with simple and practical activities for every day of May. Our teams have encouraged one another to take an extra step in action—and will continue to advocate after Mental Health Awareness Month has ended! If you'd like to follow along, download the calendar and stand up for mental health with us. Together, we can make a difference.
Keep the awareness going by downloading our Mental Health Awareness calendar filled with daily ideas to take action.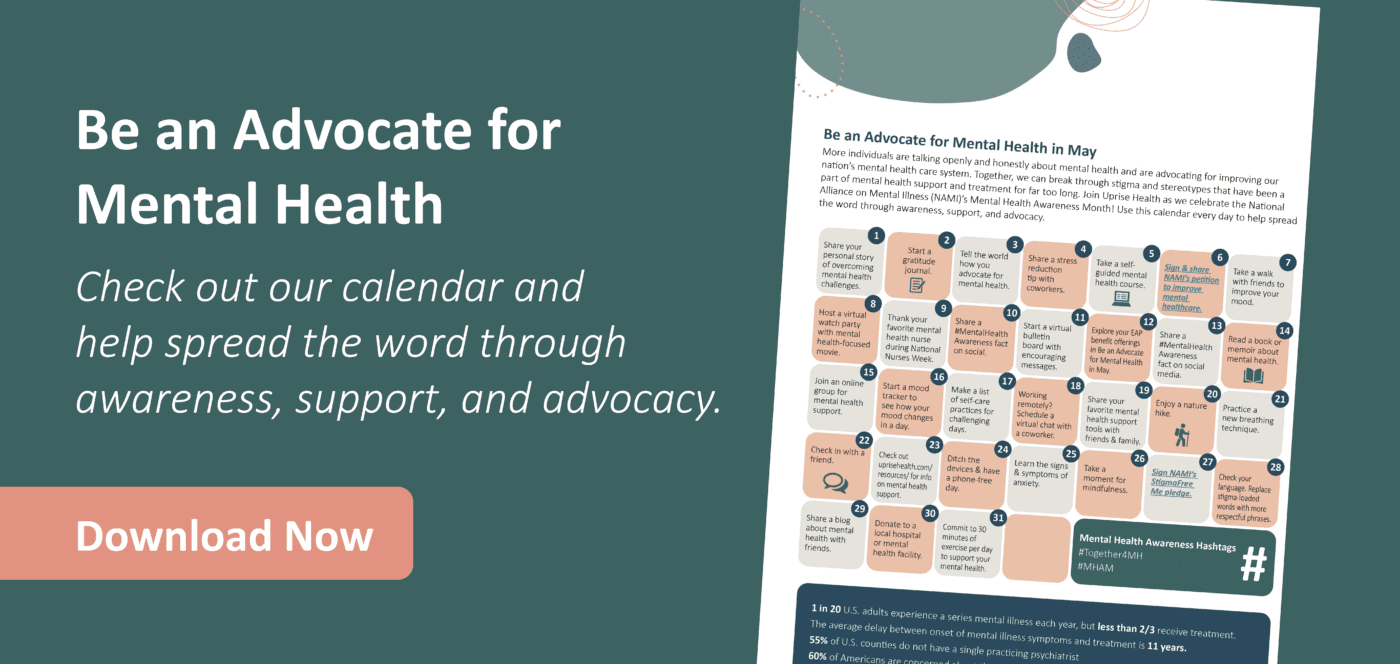 Resources
https://www.who.int/news/item/02-03-2022-covid-19-pandemic-triggers-25-increase-in-prevalence-of-anxiety-and-depression-worldwide
https://www.scientificamerican.com/article/mental-health-care-should-be-available-for-all-not-a-luxury/