The Past, Present, and Future of EAP and Workplace Mental Health Solutions
As the importance of workplace mental health becomes more widely recognized and employees demand more and better mental health benefits, employers must navigate the many digital mental health solutions on the market today. Additionally, employers have plenty of options and can improve what they're offering, whether they decide to supplement or eliminate a long-standing traditional EAP.
The conversation surrounding employee mental health benefits tends to focus on either adopting a digital health solution or continuing to use a traditional EAP. However, when we look at the bigger picture, we're presented with a powerful alternative: a combined digital EAP and mental health platform that supports a more comprehensive scope of employees' mental health needs.
The History of EAPs
In the late 1930s, employers introduced alcoholism-rehabilitation programs to address occupational alcoholism—workers drinking on the job, a typical occurrence of the times—and the resulting decline in job performance and productivity. In 1962, the insurance company Kemper Group, now Kemper Corp., launched the first employee assistance program (EAP), still focused on supporting workers with alcoholism but with the caveat that the EAP would treat it as an illness and people who sought help wouldn't be penalized.1
By the 1980s, EAP and become a big industry, and the programs had expanded to include services that helped employees and their families with marital, emotional, financial, legal, and drug abuse concerns. The goal was to provide cost-effective solutions that helped minimize the potential impact of these problems on an employee's physical and mental health and, of course, productivity1. Employee assistance programs were undeniably effective in those early years.
Economic crises, terrorism attacks, natural disasters, the Americans with Disabilities Act (ADA), workplace violence, and the development of new technology have all increased the call for EAPs to address occupational stress and depression. Unfortunately, that growing need has called the effectiveness of the EAP services into question.
The Rise of Digital Mental Health Solutions
In the years between the introduction of workplace alcoholism-rehabilitation programs and the rollout of the first employee assistance program, select psychiatric institutions and hospitals started using videoconferencing to conduct therapy sessions and psychiatric consultations with adults and children in other states. As teletherapy (and the popularity of the internet) spread globally in the 1990s,2 clinical researchers began to evaluate its effectiveness and impact on access to care compared to in-person care. Within ten years, the research confirmed that digital mental health care was parallel, in both access and efficacy, to in-person mental health care.3
Over time, teletherapy has evolved into increasingly more sophisticated, personalized, and convenient digital mental health solutions that use evidence-based cognitive-behavioral therapy (CBT) strategies as a foundation. The continued growth of the digital mental health market can be attributed to a combination of more technology advancements, clinical adoption, the ubiquity of the internet and personal digital devices, and the normalization of mental health in mainstream media.4
Consumers today have access to tens of thousands of digital mental health apps5 on their smartphones or tablets (85 percent of Americans owned a smartphone in 2021,6 and in 2020, half of those consumers reported having a mobile health app7). The growing number of consumers who use smartphones, tablets, and even smartwatches has also played a significant role in employer adoption of digital mental health solutions.
With evidence that addressing mental health at work can improve employees' productivity8 and wellbeing, organizations have become progressively more invested in building healthy, resilient workforces. Increased employee demand for better health benefits and the shift of employee-sponsored mental health programs to digital or virtual formats has also impacted workplace mental health benefits.
According to the Kaiser Family Foundation's 2021 Employer Health Benefits Survey9 since the start of the COVID-19 pandemic, 42 percent of employees reported a decline in mental health. In response, 39 percent of employers expanded access to mental health services to replace or supplement traditional EAPs. The survey also reported that 82 percent of employers who added to or reworked their health benefits added one or more digital health programs to their benefits portfolio.
Creating a New Space for Whole Person Mental Health Care
Digital mental health technology is becoming more popular as employers continue to adapt to the changing needs and demands of their employees.10 Where EAPs have historically fallen short—privacy and confidentiality concerns, high wait times to see a therapist, limited session availability, and low user engagement11—digital mental health solutions have proven to excel.
With digital mental health benefits in place, it's easier and more convenient for employees to access personalized, confidential mental health care, driving higher usage and adoption rates than traditional EAPs. For employers, digital mental health is a scalable, affordable solution for ensuring healthier, happier, more productive employees. With more sophisticated reporting than an EAP, organizations can see the big picture of engagement, ROI, and the mental health of their employee population—without exposing any personal health information.
However, the uptick in the adoption of digital mental health doesn't negate the need for the work-life services provided by traditional EAPs. While EAPs typically include limited access to counseling or therapy, their primary function is not to improve the behavioral health of employees but to provide support for a broad range of work-life issues that can cause mental health concerns, make mental health worse, and make it difficult to get care.
To fully support the mental health of employees, a new space needs to be carved out that combines traditional EAP services with modern digital mental health care. These solutions combined create a digitally enabled EAP and mental health platform that brings the best of both worlds together to offer robust, comprehensive, and highly utilized clinical services and social support.
Uprise Health's Digital EAP and Mental Health Platform
Uprise Health has created a digital EAP and mental health platform, bringing together four major mental health segments to provide highly effective, clinically validated, and affordable solutions that work for both employers and employees.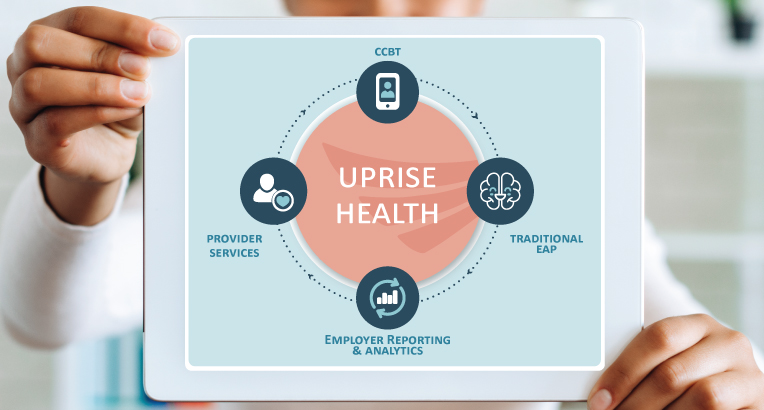 These four areas include:
Provider services
We combine telehealth (talking to clinicians via video and chat) with the traditional EAP offering of face-to-face therapy sessions to fill in the gaps for lower-risk users.
Traditional EAP
Work-life resources include a traditional EAP crisis support hotline and cover legal, financial, and other life needs—all of which are valuable and still offered through Uprise Health's digital EAP, so users get as-needed support.
Computerized Cognitive Behavioral Therapy (cCBT)
cCBT is the core of digital mental health and our clinically-validated CBT-based courses are always accessible. Many studies have found that the effectiveness of cCBT is parallel to that of traditional in-person CBT therapy.12 Outcome data from Uprise Health's digital EAP and mental health platform shows that 84% of users experience an improvement in depression and anxiety symptoms in 4 weeks—and employers see a 47% reduction of both imminent turnover risk and absenteeism.
Reporting and analytics for employers
Our reporting dashboard aggregates data without imposing on employee privacy, so employers can get an accurate, real-time snapshot of the mental health of their workplace that can help drive policies and decisions.
Using the combined power of a digitally enabled EAP and mental health platform, we've helped thousands of employers increase access to care, improve employee health outcomes, and reduce healthcare spending.
If you are looking for more actionable steps you can take to create a healthier workplace, download our new playbook: Rising Up to the Challenge: A Post-Pandemic Playbook for Addressing Employees' Mental Health Needs.
The playbook is an actionable guide that includes:
A succinct review of why mental health matters
What Employees expect in terms of support
How to address the challenge of poor access to mental health services
Steps for creating a mentally healthy workplace
Solutions to overcome common workforce challenges
Resources