Step One: Know Your Employees' Mental
Health Needs and Why it Matters
To help employers understand the Great Resignation, in late 2021, Uprise Health commissioned a survey of 1,100+ people via a third-party research group to ask U.S. based, full-time employees their perspectives on mental health in the workplace. Their insights provide employers a window into how their workforce is coping right now and what support employees need to be happy and productive.
The Are You Listening survey report, which you can download, makes clear that mental health concerns are on the rise, and it is impacting how employees feel about their work.
78% said that their mental health had been affected by the pandemic
43% feel overloaded with work
56% have considered leaving their job
The increased amount of social isolation, rising rates of job burnout, stress about childcare, and the anxiety that a pandemic brings has impacted us and forced a major shift in perspective about mental health and work. The impact is enormous for employers. Companies' bottom lines have been impacted by increasing absenteeism and presenteeism. Higher rates of employee turnover have cost companies in terms of rehiring and training. And patterns of work culture have changed dramatically. According to a survey conducted by Berkeley-Stanford, cultural elements that are now more heavily emphasized at work include flexibility, transparency, supportiveness, decisiveness, and conflict confrontation. And empathy, understanding, and mutual support has been deemphasized.1
Most organizations are acutely aware that the workplace is different, and their workforce's expectations have shifted. But knowing how to respond is not as easy as recognizing the transformation. Dr. Christopher Valerian, Chief Medical Officer at Uprise Health emphasizes that the COVID-19 pandemic "has created an opportunity for health insurers, employers, and care providers to increase access to mental health treatment and resources."2
Now is an opportune time to reshape how we approach mental health in the workplace in part because the pandemic helped to destigmatize conversations about mental health concerns support.
Step Two: Create and Implement an Actionable
Plan for Better Mental Health Care
Employers have a significant role to play in helping to put into place effective tools and interventions that keep employees healthier and more productive. Once an employer better understands what their employees need, they can start creating a data-driven and evidence-based way forward to improve employee support, drive down employee turnover, and make their workforce happier, healthier, and more successful.
This is not an easy challenge. We currently face numerous, complicated barriers to care. 37% of the U.S. population are severely impacted due to shortages of mental health professionals.3 Although there are voluntary benefits available like traditional EAPs (Employee Assistance Programs), most Americans are not using them4—either because they do not have them, do not know they have them, or they are too hard to use. Uprise Health is here to help organizations implement proactive and preventative mental health care that is cost-effective and provides the outcomes both employers and employees need.
As a follow-up to our Are You Listening report, we have created a playbook that is intended to offer a path forward for leadership. Rising Up to Meet the Challenge: A Post-Pandemic Playbook for Addressing Employees' Mental Health Needs is an actionable guide that includes:
A succinct review of why mental health matters
What Employees expect in terms of support
How to address the challenge of poor access to mental health services
Steps for creating a mentally healthy workplace
Solutions to overcome common workforce challenges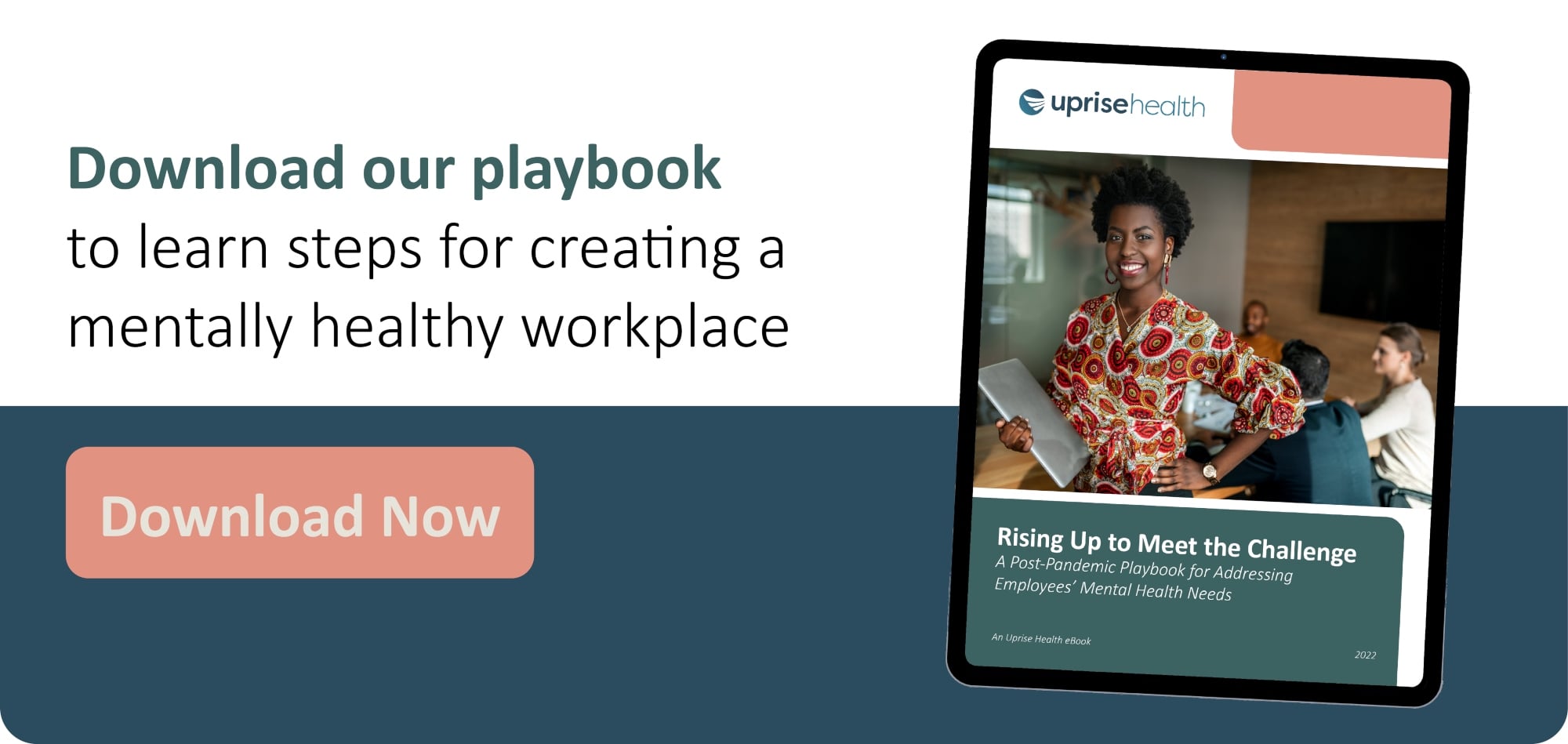 Resources