Many employers today are facing labor shortages, work environment changes, and higher mental health issues in their workforce. Unfortunately, more people are saying they are burned out, exhausted, and disconnected.
41% of Americans have experience at least one adverse mental health condition related to the pandemic.1
Productivity losses tied to personal or family health problems (including mental health) cost $225 billion annually.2
Mental health concerns impact voluntary employee turnover, and unsurprisingly because mental health issues are increasing, so is employee turnover. In this blog, we are examining what employment and turnover look like today, what it is costing employers, and how we can help organizations take big steps to address the issue.
The High Rate and High Cost of Employee Turnover
Although the rate of spread of COVID-19—as well as severe and deadly cases—is steadily decreasing across a lot of the United States, people are still struggling and leaving (or being forced out) of employment in record numbers.
Employment in February 2021 was 8.5 million less than in February 2020.3
Women accounted for the majority decrease in the labor force during 2020 and 2021 even though they make up less than half of the U.S. workforce.3
The decrease in the labor force participation rate for workers exceeds that seen in the Great Recession and is the largest 12-month decline since World War II.3
Supply and demand issues have changed dramatically, and voluntary turnover is increasing because of it. We expect to continue to see extremely high rates of job change throughout 2022. According to The Society of Human Resource Management, "a quarter of workers plan to quit their jobs outright once the COVID-19 pandemic subsides and recruiting efforts ramp up.4" Experts expect that employees who have put off job searches and job changes during the pandemic will resume job searches, and they will leave their current job when they find a new one.
We also expect to see more dramatic job changes and job dissatisfaction in younger generations, which is unwelcome news for the future of organizations who will depend more heavily on this younger generation. In late 2021 and early 2022, we commissioned a survey of 1,166 adults aged 18-65 to learn more about how employees are coping in today's workforce and what their needs and preferences are. In the survey,5 Generation Z made it clear that they are struggling:
56% have considered leaving their career or jobs, and of those 1 in 4 cited mental health needs as their top reason.
31% have switched jobs in the past six months due to pandemic-related stress.
71% have considered leaving their career or job to do something else.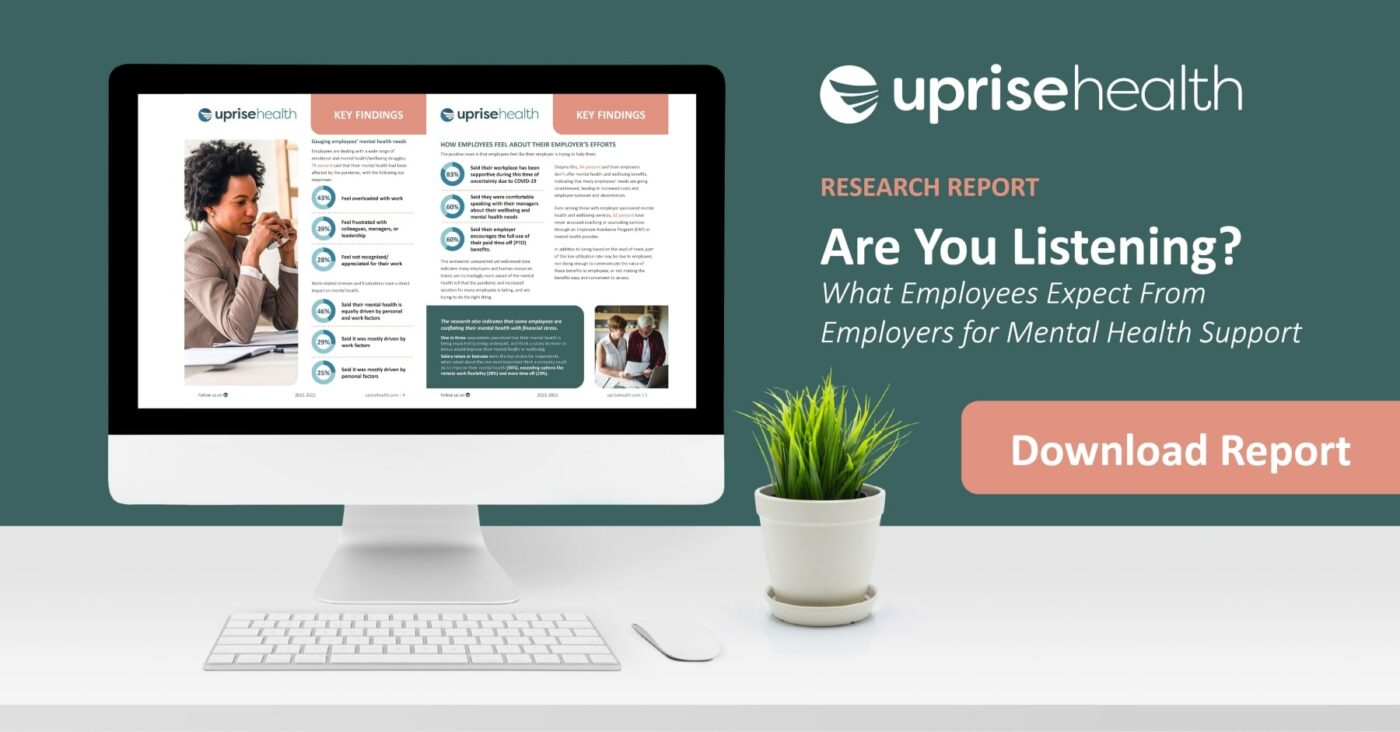 Increasing rates of employee turnover is concerning. It can change the entire dynamic of your business and slow down how fast your teams are moving. But the biggest concern is that employee turnover is costly. According to Gallup, the "cost of replacing an individual employee can range from one-half to two times the employee's annual salary — and that's a conservative estimate.6" So, that means a 100-person organization with an average salary of $50,000 would spend between $660,000 and $2.6 million per year on replacing the employees who leave. And that is a conservative estimate based on pre-pandemic turnover rates.
What can Employers do to Reduce Turnover and Improve Retention
According to a Gallup survey, 52% of employees say that their company could have done something to prevent them leaving their job,7 and a whopping 94% of employees in another survey say they would stay at their current employer if they invested in their long-term learning.8 Those are convincing numbers that reducing employer turnover is achievable.
There are a lot of complicated factors involved in keeping turnover low including fair compensation, successful recruiting, prioritizing work-life balance, encouraging continuing education, and providing a transparent and supportive leadership culture. But the one that we here at Uprise Health have the most data on—and can help you with—is providing effective and easy-to-access EAP (Employee Assistance Programs) and mental health programs at your company. Why?
Mental Health Improvements: Out of 71% of younger employees who considered leading their job, the reason they cited most often was mental health needs.5 Effective mental health support provides your employees with tools that help them understand and handle their mental health concerns.
Our mental health programs have been shown to have substantial improvements in feelings of hope, optimism, and resilience. The Uprise Health approach teaches employees new skills on how to self-manage their mental health. According to our utilization data, 84% of members no longer experience severe mental health symptoms after 4 weeks of engagement in our coaching and digital courses.
Increased Perception of Manager Support and Team Cohesion: According to our survey, 53% of women feel frustrated with their colleagues, managers, or leadership, and 47% of men do.5 Personal conflict can be another influence on employee turnover. By providing employees with benefits that they more actively engage with, many employees who use the Uprise Health program report that they feel better supported by their management and report more team cohesion. In another Uprise Health case study, perceived manager support at a chemical company rose by 27.5%. And within a diabetes charity, their employees reported a 22% increase in team cohesion after only 4 weeks using the Uprise Health program.
Psychological Safety is Key: Psychological safety is when teams feel empowered to take risks, innovate and work more effectively together in the workplace through open conversations about success and failure. During unpredictable and highly stressful times, ensuring psychological safety and resilience at work is crucial to keeping people happy on the job (and staying on the job). In one of our case-studies, employees at a manufacturing company saw an average increase of 16.5% in psychological capital after using the Uprise Health program. And that same organization saw the number of their employees who reported a very high risk for turnover drop from 14% to 0%.
If you would like to learn more about how our EAP and mental health programs can help you better support your employees, reduce turnover risk, and improve employee retention, request a demo.
Resources