As privately as we tend to treat illness, chronic disease has a large impact on communities and our workplaces. According to data from the Centers for Disease Control and Prevention (CDC), 60% of adults in the U.S. have at least one chronic disease and 40% of adults have two or more chronic diseases.1 As important as chronic disease is, there are many people who have undiagnosed chronic diseases, either due to lack of awareness, medical check-ups, or symptoms. It's likely that someone you work with has a chronic disease and that at some point, you will yourself.
Because of the impact and visibility of the COVID-19 pandemic, people are talking about illness in the workplace more regularly, and the stigma associated with conversations about illness and chronic conditions seem to slowly be decreasing. But we are still only scratching the surface regarding the state of chronic conditions and chronic disease management in the United States. So, let's dive into the current state of chronic conditions in the workplace – both how it impacts the workforce financially and personally:
The financial ramifications of chronic disease are far-reaching. Chronic disease:
Can significantly reduce employee productivity.2
Costs more for the employee in terms of prescription costs and out-of-pocket expenses.
Drives overall healthcare premiums up for both employers and employees.
Can worsen quickly and substantially if poorly managed, which leads to costly emergency room visits and inpatient hospital treatment.
Stats around the cost of chronic disease paint a clear picture of the high expense:
The onset of a chronic disease reduces wages by around 18% due to employment restrictions, job loss resulting in lost wages – which also impacts social security and other retirement benefits.3
Five chronic diseases or risk factors—high blood pressure, diabetes, smoking, physical inactivity, and obesity—cost US employers $36.4 billion a year because of employees missing days of work.4
Healthcare expenditures on people with chronic conditions are 14 times more than people with no chronic conditions.5
The cost of chronic disease is clear, but it isn't the end (or the most important part) of the story. Chronic conditions also take an emotional toll on employees in their workplace. Being diagnosed with a chronic illness can be a time of great change — physiologically, psychologically, and emotionally. Employees with chronic conditions have identified the following stressors:
Fatigue, pain, and side-effects caused by their condition.
Uncertainty and unpredictability of their condition.
Loss of interest in things they previously enjoyed.
Worry about negative views of their colleagues and leadership surrounding illness – how others might see them as weak, as a complainer, or unsuitable for a promotion or leadership.6
Guilt about being a team player, managing their "fair'" portion of the workload, or asking for "special treatment."
Making sure employees are healthy, engaged, and productive should be at the top of every company's priority list. However, a recent survey, revealed that only 46% of employers offer some type of chronic disease management program.7
There are a lot of gaps and areas of opportunity for leaders and their organizations to better address and accommodate employees with chronic disease in the workplace. Improving treatment, taking a proactive approach, and adopting steps specifically designed for condition management can also reduce the heavy financial burden for employers.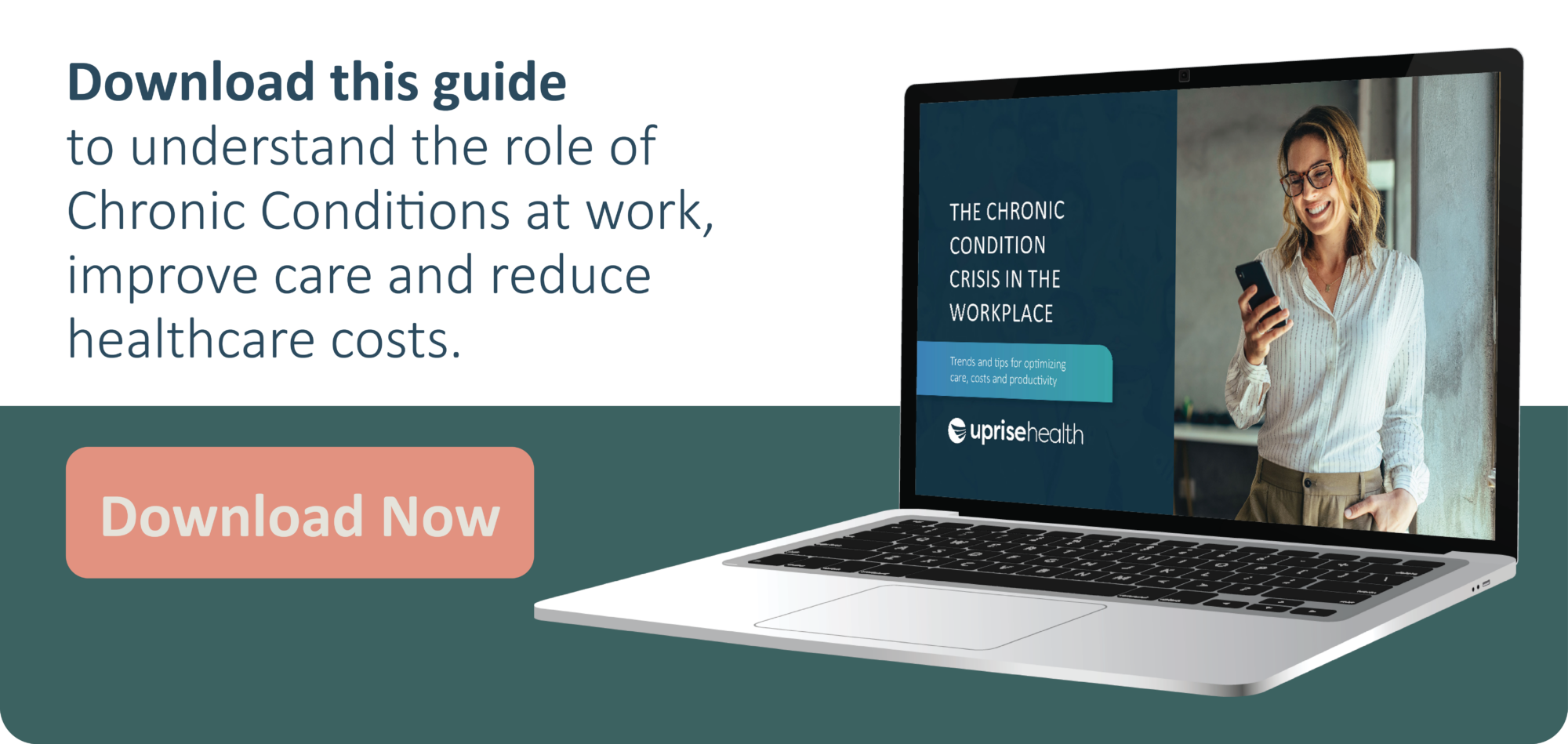 In order to help employers and management understand chronic conditions and their role, Uprise Health has created a resource covering Chronic Condition Crisis in the Workplace. In the whitepaper, we offer:
Deeper information on data and integration challenges
A chronic condition management checklist
Steps for success in chronic condition management
Insights for designing and implementing an integrated chronic disease management program that achieves its clinical and financial goals.
A Proactive Approach
Digital care management solutions that successfully combine technology and person-to-person care is an effective way for organizations to pay attention to chronic care management and reduce the high cost of chronic disease.
Uprise Health EAP and mental health platform helps improve chronic care management by proactively identifying and triaging employees based on a risk algorithm and fully coordinated care. Our care navigators provide live support to help reduce barriers to access to care and improve care engagement. They also tailor their outreach and support based on a members' needs, so high and medium risk employees to prevent dropout and ensure improvements. Learn about our proactive approach and care navigators.
Resources