Implementation Timeline 
Pre-Launch
Two weeks prior to the program start date, you will receive an email reminder to complete the following steps:

Download and Send this teaser email to employees prior to program launch.
Post information on your intranet or around the office.
Update information in your new hire orientation or packets.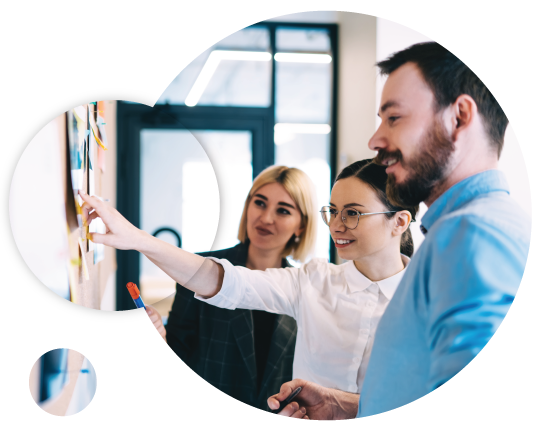 Ongoing Engagement
Offer all employees the Uprise Health digital app, coaching (if applicable), counseling, online peer support, WorkLife services, and more.
Send this reminder email to re-engage employees each quarter.
Promote the program using our Monthly Wellbeing Tips Newsletter for your employees on different wellbeing topics.

We send the newsletters to workplace leaders at the start of every month, and they should send the newsletter along to all employees.

Employees can attend Monthly Uprise Health Wellbeing Webinars for free.

We send monthly invitations and reminders to workplace leaders at the start of every month, and they should send the invitations along to all employees.

Track your impact on staff wellbeing with the Reporting Dashboard.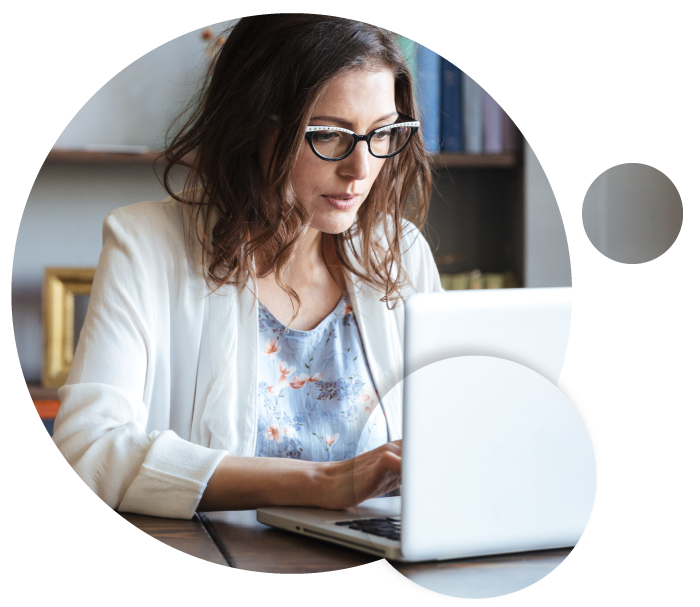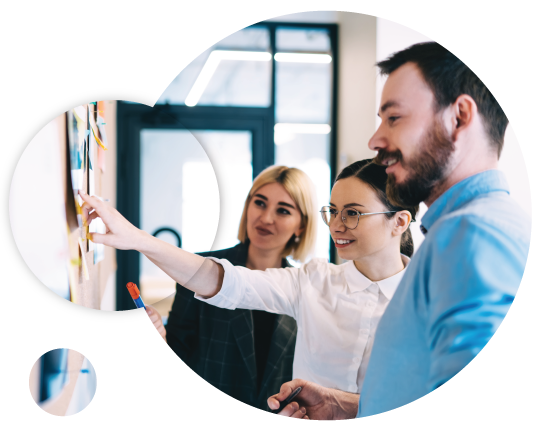 Launch
Promote the program with this launch email.
Share the access code for your employees to use the program – it is critical that employees have their access code to access Uprise Health information and services.

Your unique digital access code was sent in the Welcome to Uprise Health email you received after the contract was signed.

Promote the program using the flyers found below. Promotion ideas include:

Print the flyer at a poster size and place in visible areas of your office, if applicable.
Send the flyer as a PDF to emails if your company communicates frequently by email.
Share the flyer on any internal communication platform.
Place a copy of the flyer on everyone's desk or physical inbox, if applicable.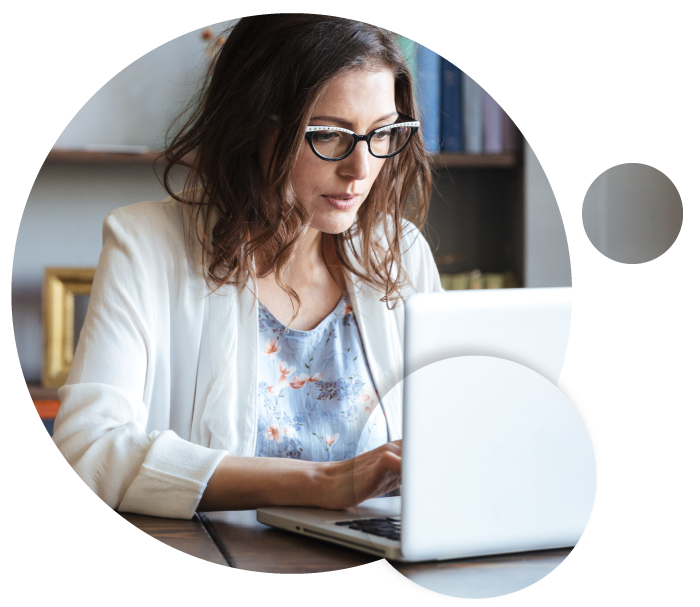 Suggested Timeline for Employees
Employees are encouraged to re-engage with the program over time to check in on how they are coping and up-skill when they choose.
Wellbeing Check
Quick monthly evaluation of wellbeing and stress levels
Digital Program
1 skill can be learned per week in quick micro lessons
Coaching
1 call can be used for each skill to personalize learnings
Accessing and Getting to Know Uprise Health Services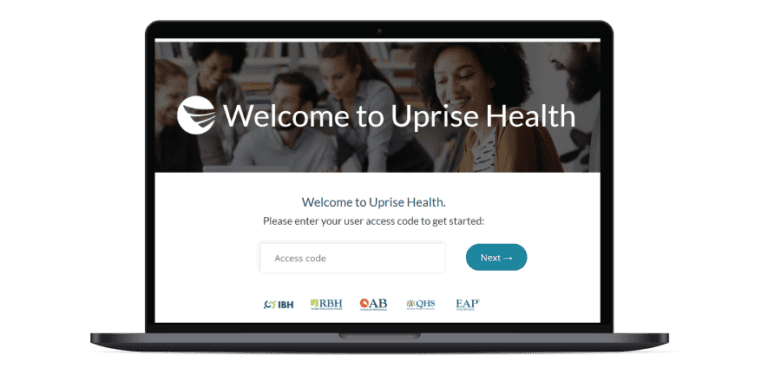 Member Access Page
Our Member Access Page is a very important resource for you and your employees. This is how our members will get started using our services and solutions. In your member page, you can view specific details about your company's plan and access links to the Uprise Health app, work-life services, help line, and resource library. Essentially, it's your gateway to Uprise Health. For this page, all employees need to have the user access code that is sent in the Welcome to Uprise Health email.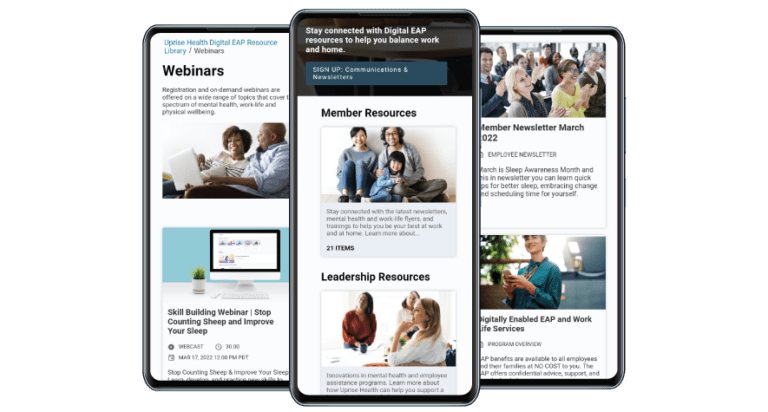 Resource Library about Uprise Health Services
We have a resource library for you and your employees to use whenever you need information about Uprise Health services and solutions. Your resource hub includes detailed information on what services and solutions Uprise Health provides and how to use them. You can also find supervisor and management support materials, and flyers about Uprise Health to share with your employees.
Highlighted Resources in the Resource Library
Onboarding Information
Supervisor Materials
Resources to Share with Employees
*Spanish Versions Available
Engaging with our Services
You and your employees should access Uprise Health platform and pages directly or through the member resource page. Here is what you can find on your member access page (or bookmark directly). Just make sure you have your access code handy!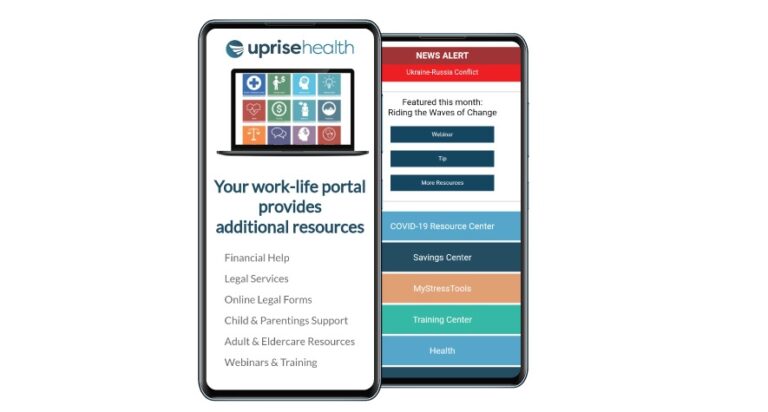 Work-Life Services
The work-life services portal provides members with a wealth of additional work-life services covering financial help, child and parenting support, legal services, adult and eldercare resources, online legal forms, and more. The Work-Life portal uses the same access code as the member page.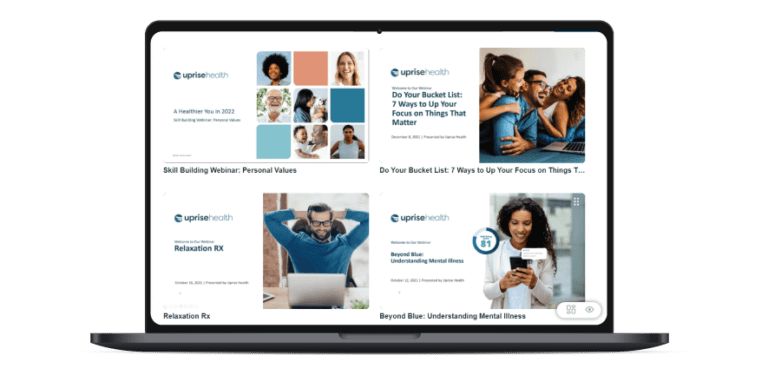 Access to Recorded Webinars
Available to all Uprise Health clients and employees. Live webinar invitations will be sent to your designated company contact. To add another contact, please email marketing@uprisehealth.com.